1. Access your Account Settings page by clicking your icon in the upper right-hand corner and clicking "Account Settings" from the drop-down menu. (see image below)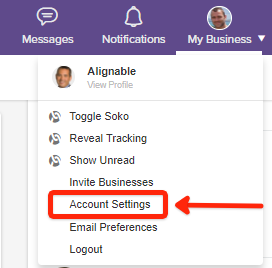 2. Once there, you will see the page below. Place the new email that you would like under your account in the cell marked in red below: 
3. Input your account's password in the "Old Password" field to verify your account as seen below:
4. Click "Save".
If you need any further help with this process or have any other questions, you can ask your Community Manager by going to the link below: 
https://www.alignable.com/biz/messages/alignable