We want everyone to be safe on Alignable and the best way to protect yourself is knowing how to spot and avoid scams. 
What are Scams?
Scams are a form of fraud, usually committed through email. Typically the goal of these scams are to steal money or even your identity. Scammers will use fake identities or impersonate legitimate people to appear to be trustworthy but in actuality, are anything but.
Although Alignable has protections in place to help protect you from potential bad actors, it's important for everyone to stay vigilant. This article will cover some quick tips that can help you avoid becoming a victim of a scam. 


Quick Tips
Slow it down - Scammers will often try to rush you to throw you off guard and only give you a limited time to respond. Slow down, ask questions, and think it through.


Do your research - Do your research to double check the details you are getting. Does what they're telling you make sense? Does it seem too good to be true? 


Don't send private info - No reputable person or agency will ever demand payment or your personal information on the spot.


Stay on Alignable - Scammers will try to get you to take your conversation off Alignable to a less public or less secure setting, such as a separate email. Always proceed with caution.


Report the Conversation - Flag the conversation to notify Alignable Trust & Safety to investigate the potential scammer. 


Report the Potential Scammer on Alignable - Click here to report a member of Alignable
Common scams
Here are some common scam scenarios to keep an eye out for:
Loan scams
Loan scammers send messages and leave posts offering instant loans at low-interest rates for a small advance fee. They might also offer the loans for an advance fee with the intention of not sending you the money after they've received your funds by offering false documentation and certification.
Cryptocurrency scams
Cryptocurrency scammers send messages and leave posts offering passive income opportunities and a way to make money on the cryptocurrency market in exchange for a down payment. 
Lottery/Reward scams
Lottery scammers will claim you've won a prize or the lottery and that you can receive your prize for a small fee. The scammer may ask you to provide personal information.
Job Scams
Job scammers use misleading or fake job postings to try and get your personal information or your money. Avoid job postings that sound too good to be true or that ask you to pay anything upfront.

Things to watch out for
Not all scams will be easy to spot but very often there will be a few telltale signs that could point to a possible scam. 
People asking you to move your conversation off Alignable to a less public or less secure setting, such as a separate email.

People you don't know personally asking for money.

Anyone asking you to pay a fee to apply for a job.

Alignable profiles claiming to represent a large organization or public figure.

People asking you to send them money or gift cards to receive a reward.

Anyone claiming to be a friend or relative in an emergency.

People who misrepresent where they are located on their profile. 

Messages or posts with poor spelling and grammar.

People or accounts directing you to claim a prize.

Job Interviews or offers for a job you did not apply for.
What to do when you are contacted by a scammer
If you believe you have been contacted by a spammer or scammer on Alignable you can do one of the following: 
Contact Alignable's Support Team
We take reports of scams very seriously, so if you believe you were contacted by a scammer, we'd love to hear from you ASAP. 
Click here to report a member of Alignable
When you file your report, please provide the following information to help us get to the bottom of it as quickly as possible.
Business Name of the reported member. 
Profile URL of the reported member. (http://alignable.com/biz/city-state/business-name)
Location of the reported member (city, state or province, and country).
We will also ask you to submit certain information about your business. This information will not be shared with the business you are reporting. This information will only be used to find your Alignable account to further understand interactions you may have had with the reported member on Alignable.
Once submitted, our Network Security team will investigate the reported member and their account and take any appropriate action deemed necessary.
Flag the Message
Flag a message from a user in the email or via DM (inappropriate or spam)
If you have received a direct message on Alignable from another member that you think is suspicious, inappropriate, spam, or abusive, please let us know!
You can report/flag a message you've received by clicking the three dots in the message thread open in the Messages tab and selecting either "Flag" option. This will send a report with the message to our support team.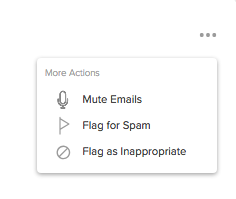 Disconnect from the Member
Lastly, you can disconnect from the user so that they will not be able to send you any new messages. To see how to disconnect from a business, see this article here: How do I remove a connection?