Smart Connect

℠

Virtual Networking Events
Smart Connect℠ helps you meet the right people, the right way through meaningful 1:1 connections. These breakout room-style virtual events are a game changer and will make business networking easier than ever before!

To ensure you have the best experience possible, we have outlined some general support tips to help you navigate through potential issues that could arise when joining events in a virtual space.
Joining the Event
When you click Join Event you will be taken to the screen below to make sure you have connected audio and video supported. This is also the only time you will be able to blur your screen so make sure you check Blur Background now.

If you receive the below red error message, first try clicking the refresh page icon in blue. If the problem persists you can try again on Chrome or Edge. (Mobile devices currently are not supported).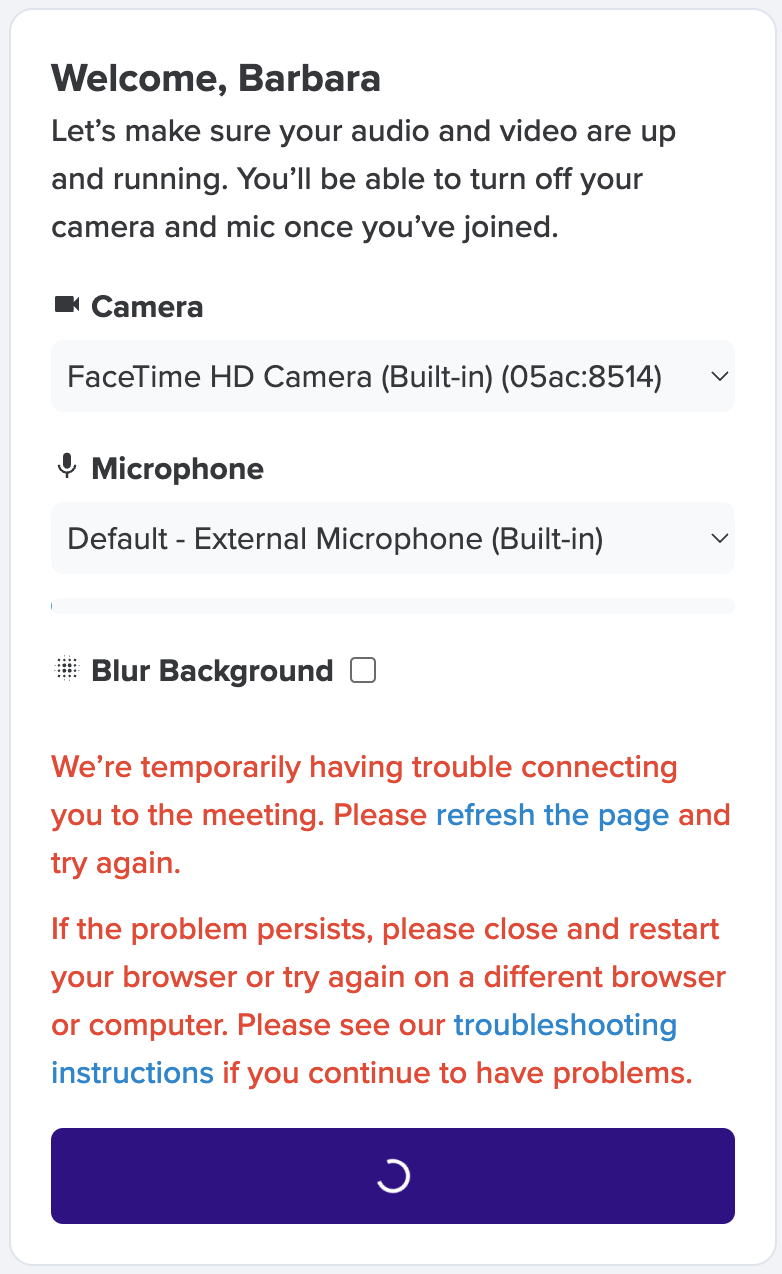 You can also try opening the event in an Incognito Window as highlighted below.


Once the incognito window is pulled up, you can copy and paste the event url into the search bar and hit enter which will bring you to sign into Alignable and direct you to the event.
Wrong Browser or Mobile Device
Mobile devices are currently not a supported feature for Smart Connect℠ so if you are joining from a mobile device or are on an outdated browser you will get an error message.

You can simply do a browser version check and download an alternative browser to join the event.

Disconnected from Event
If you see a blank screen with a notification saying you were disconnected from the meeting, first try reloading the page. If the problem persists then try opening the event in a different browser. Sometimes this is caused by corporate VPNs that are blocking access. If you're on a VPN or firewall, this may block access to the event.
Access to my microphone or camera was denied
If you can't get into the event or the Join button is grayed out, check to see if your microphone and video are connected.
Smart Connect℠ needs permission to use your camera and microphone. You will be asked to allow access the first time you join a Smart Connect℠ virtual meeting.
You can change the setting to allow Smart Connect℠ to use your camera and microphone, click on the camera icon
in your browser address bar and select the "Always allow" option.
If these changes don't resolve the issue, try below options:
Ensure there are no other apps currently accessing your camera.
If you have multiple cameras installed, make sure the camera you want to use in the Smart Connect℠ is set to active.
Confirm you have the most recent version of your web browser.
Enable your camera before you join the event.
We are so excited for you to experience the networking power of Smart Connect℠! Should the solutions above not have solved your issue, please Contact Support HERE