What are virtual events?
As a group admin and moderator, you can create and host online virtual events and invite group members as guests. Using Virtual Events, you can help your group members build relationships beyond your group's feed through face-to-face conversations, discussions, and online conferences, further enhancing your community and your member's ability to grow their businesses through networking with their peers.
Note
At this time, only group members who are moderators or admins can create and host virtual events within Groups. We hope to expand this feature beyond groups soon.
What types of events could you host?
Some examples of the events you can host within your group are:
Ask Me Anything ('AMAs')
Weekly Meet & Greets between group members.
Expert Panels valuable to your group members.
Speed Pitching / Pitch Competition.
Masterclasses for group members to show expertise, skills, and knowledge.
& More!
Click here to see a full guide on what types of events you can host.
How to create a virtual event on Alignable?
To create a virtual event, please follow these steps:
Find and Access your Alignable Group.

Log into your Alignable account, access your group by going to My Groups.

Start Creating Your Event

Start creating your event by clicking Write a Post.





Then click Add an Event to start creating your virtual event.





Select Your Event Type

You'll be presented with two options for the types of events you can post:

Virtual Events: Events you can use to meet virtually online over video.

In-Person Events: Get together with people at a specific location.

Fill Out Your Event Details

Fill out your virtual event's details including:

Event Title
Featured Image
The time & date of the event.

Event description and details.

Select a Conference Call Option.

When creating a virtual event, you'll have the option to either:

Host your event using Alignable's integrated video conferencing system (hosted by Whereby), ...

... or use your own conference link from Zoom, Webex, Google Meet, etc. If you select to use your own, paste your conference call link to allow people to join your event when the event starts.

Finish & Publish Your Event

Next, toggle Pin Post if you would like to pin your event to the top of your group's feed.

Finally, click Post to publish your event.
Once you publish the event, your event will appear in your group's feed, and your group's members will receive a special email with an announcement of the new event with an opportunity to register.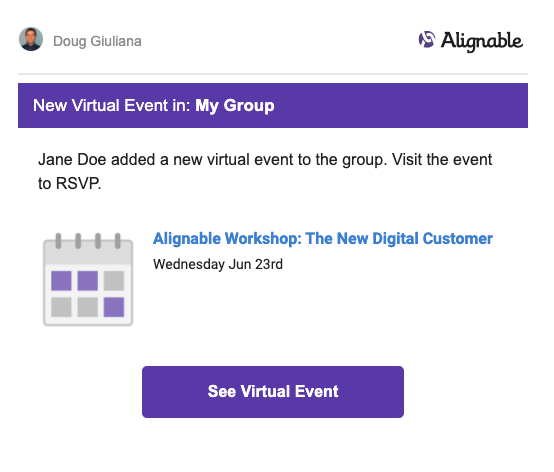 What's Next?
Now that you have your event created, all of your details squared away, and your group members have started registering via Alignable you'll want to plan how the event will go.
You can find a full guide on how to host a successful event in our Learning Center.