Inviting Businesses with Alignable's Contact Finder
To invite businesses to join Alignable, you can do so by clicking, here.
There are a few different methods for finding businesses you already know:
Email Address Book
Enter your email address (the email address where your contacts are stored), so you can find people you already know to join you on Alignable. Alignable will search your address book for identified businesses. We will not contact anyone without your permission.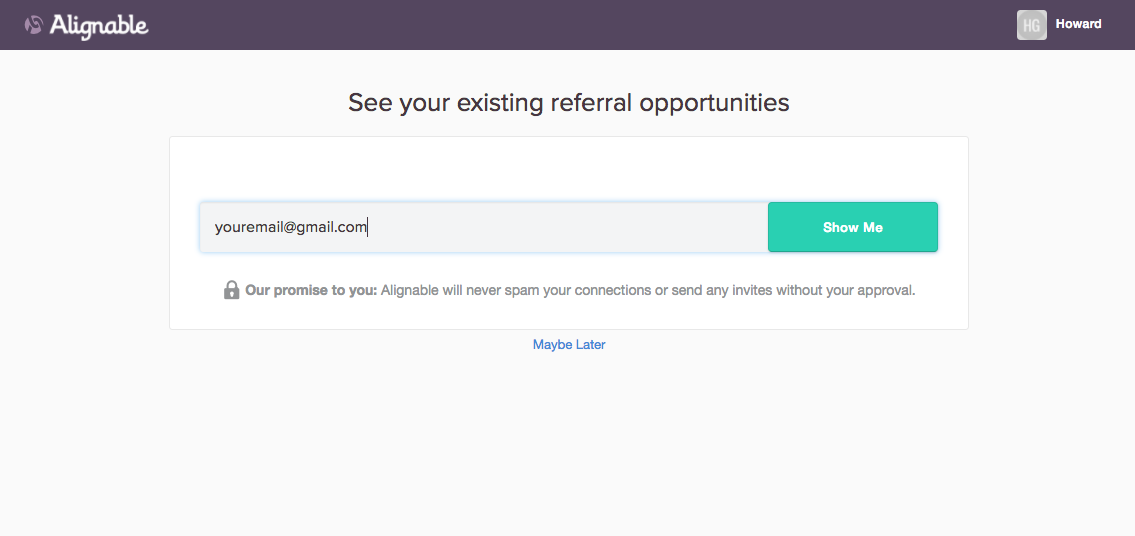 Note
We can only search address books from certain email providers. The providers we currently support are Gmail, Yahoo, Office 365, Outlook, and AOL. If you don't have one of these, see the other options below.
Email
If you want to invite businesses to Alignable one at a time use this link and click the "Email" tab (shown below). Simply type in the email address for those you'd like to invite in the text field. To send more than one invitation, click the green "+ Add Another" to add another text field for another email address. Click the blue "Send Invites" button once you've entered the email address(es) to send off an invitation to that business.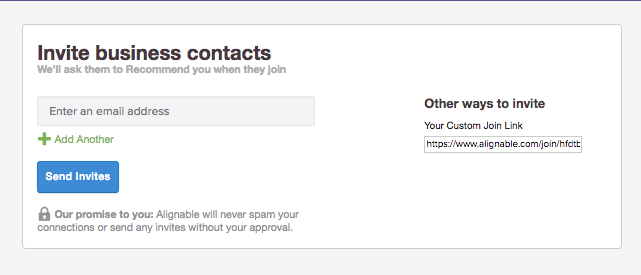 Next step for all methods
Once you've added your contacts (from any of the methods described above) you will need to click "Invite" for an invitation to actually be sent to them. Clicking the green "Add All" button at the top of the list of your contacts will send an invitation automatically to all matched business contacts.
If your matched contact has a "Connect" button next to their business name, that business is already on Alignable. Click "Connect" to send them a connection request.
If your matched contact has an "Invite" button next to their business name, they are not yet on Alignable, but they can get an invitation from you to join when you click "Invite".
Any business that joins from your invitation will be automatically connected to you on Alignable. They will also be prompted to Recommend you, which is why inviting your contacts is a great way to increase your recommendations on Alignable.