You can see your pending connection requests (connection requests that you have not yet accepted or ignored) on the Grow My Network page. 
You can click on the network icon in the upper-right (the leftmost icon of the three next to your name) or on "My Network" in the left-hand menu to get to Grow My Network.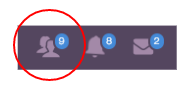 On the Grow My Network page, all of your pending connection requests will be listed at the top in a Pending Connections section. If you do not have any pending connection requests, this section will not be shown.
Here you can choose to Accept or Ignore a connection request. Clicking Accept will connect you with the business who sent the request and that business will get a notification that their request was accepted. Clicking Ignore will make the request disappear from your Pending Connections, you will NOT be connected with this business, and they will NOT be notified that you ignored the request.