1. If you have an Alignable account, you can manage your email settings by clicking on "My Business" under your Profile icon in the upper right corner of the website. Select "Email Preferences". There, you can manage the different types of emails you want to receive. 
You can also access your Email Preferences via the link below: 
https://www.alignable.com/biz/email_settings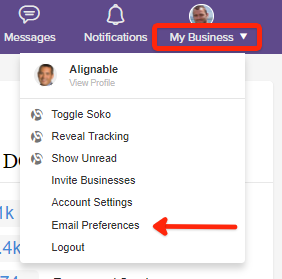 2. You will see the email preferences page as seen in the image below: 
3. Once there you will have the option to choose between the following options: 
- All Notifications: Including hints and tips and discussion digests. 
- Important Notifications: You would only receive notifications such as connection requests, recommendations, and personal messages. 
- No Notifications: You would only receive updates about your account, privacy and security. 
- Custom: Choose specific notifications you would like to receive. 
If you would like to pick and choose which emails you would like to receive, you can choose the "Custom" option. See the available options below: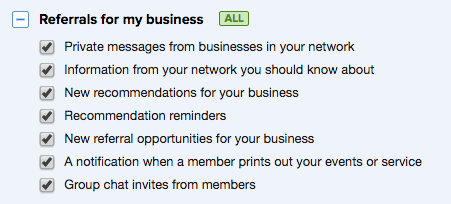 You can also unsubscribe from a specific type of email. To do this simply click "unsubscribe" at the bottom of the emails you receive.  Here's an example of what this can look like:

If you do not have an Alignable account, you can unsubscribe here: https://www.alignable.com/unsubscribe