If you believe you have been contacted by a spammer or scammer on Alignable you can do one of the following:
Contact Your Community Manager
Your Community Manager is there to help you find success on Alignable. You can reach out to your Alignable Community Manager with any issues that you are facing with this link, here.
Flag the User
Flag a message from a user in the email or via DM (inappropriate or spam)
If you have received a direct message on Alignable from another member that you think is suspicious, inappropriate, spam, or abusive, please let us know!
You can report/flag a message you've received by clicking the three dots in the message thread open in the Messages tab and selecting either "Flag" option. This will send a report with the message to our support team.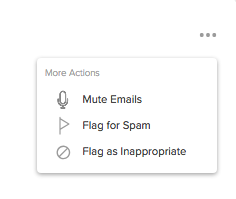 Report the Member
Disconnect from the Member
Lastly, you can disconnect from the user so that they will not be able to send you any new messages. To see how to disconnect from a business, see this article here: How do I remove a connection?